It should go without saying, but please drink responsibly.
Beer and wine are good, but sometimes you just want a fun cocktail to mix it up. Sometimes you're in the mood for something 'different'.
If this is you, then we've got you covered!
We all love a good cocktail, but it can be made even better with the addition of CBD oil.
(note: if you don't drink, the pictures below are really nice, so you got that going for ya!)
As the legalization of hemp and marijuana has spread, so has the CBD cocktail, to boutique bars and classy lounges all over the world.
Maybe that's why the CBD cocktail trend has kicked into high gear.
Consumers are always looking for next big thing in craft cocktails, and bartenders have been adding new CBD cocktails to their list seemingly every other day.
You can now order almost any drink with a CBD infusion.
But what if you don't want to pack yourself into a sardine can, just to pay $14 for an overpriced drink, where you can't hear your friend talking over the blazing music of Bon Jovi?
Again… we got you covered!
With endless recipes on the internet, making seemingly complex cocktails has never been easier to do from home.
All you need are the ingredients, a great attitude, a little motivation, and a little CBD oil to make your favorite drink while in your onesie pajamas.
But, before you turn into a world-class mixologist, you may have a few questions about what CBD will do to the drink?
How does adding CBD make it special? Will it change the flavor of my favorite drink? Will I hit more PR's if I drink a CBD cocktail?
Those are all questions that we answer below.
What Is A CBD Cocktail?
A CBD cocktail is a cocktail that is infused with cannabidiol (That's the fancy scientific name for what we commonly refer to as CBD), which is derived from cannabis plants.
Wait, so will I get high from these delicious drinks? No.
You might be thinking of THC, which is the compound in cannabis that does get you high. Just remember… THC gets you high, CBD gets you healthy.
As a side note, CBD is making its way into beer as well. Yes… hops, barley and CBD sounds like a great combination to us!
Btw, if you know of a CBD beer company that is looking for honest and reliable tasters, let us know and we'll make the sacrifice for humanity.
Why Drink A CBD Cocktail?
CBD cocktails don't just taste great, they also have a positive health effect on your body.
CBD puts power packed cannabinoids in your body, which fuels the endocannabinoid system (ECS), which in turn helps your body maintain homeostasis and balance.
That's not the only health benefit. CBD oil has the ability to help you relax, not to mention reduce inflammation from those killer wods.
While we can't make medical claims, doing research on the benefits of CBD will produce TONS of testimonials of people getting off prescription drugs and medications.
Wait, does that mean I can just drink CBD cocktails instead of going to see my doctor if something is wrong with me?
No. If any part of your long-term treatment plan for a health problem is "I will drink 8 cocktails per day", you probably need to reconsider your treatment plan.
How Will CBD Cocktails Make You Feel?
Most likely pretty good!
It is alcohol and we're pretty sure you already have enough experience with this to know how it's going to make you feel.
You may be warm and talkative after one or two, dizzy and inebriated after a few more.
You may all of a sudden become a dancing or karaoke superstar! (don't ask us how we know….)
CBD won't change the effects of what alcohol does to your body, but at least you'll get the benefits of CBD while adding a few calories to your total.
But you did kill that wod today, so you do have a few 'calorie credits' to spend.
Is There A Change In Taste?
The simple answer is no, as long as you stick to the recipes and common sense.
However… we've personally tasted many different CBD brands and taste does vary from CBD to CBD product.
Some CBD comes from soil that used to grow other crops. For instance, we know of a few that came from soil that grew tobacco.
As you can imagine, the CBD tasted like it, and that would not taste good in your cocktail.
Lucky for you, we spent an incredible amount of time, money and resources to get the best tasting CBD that flat out rocks.
And no… our CBD does not come from tobacco soil. Our CBD is organically grown in Colorado.
In fact, if you'd like to get a free sample of our CBD, just to see what it tastes like, click here: https://www.wodrecoveryrx.com/samples-rx
All we ask is you cover the shipping for the sample.
How To Make CBD Cocktails
There are a few things to think about while making a CBD cocktail at home.
The first is that – while you may absolutely love CBD oil – you need to monitor the amount of CBD you are using so you do not overpower the taste of the cocktail itself.
A small amount of CBD will do the trick, with about 3 to 5 milligrams often being enough per cocktail.
If you don't have a precise knowledge of what 3 to 5 milligrams looks like solely by doing the eye test, then go for about 8 to 10 drops. Add it last, and stir once you add it.
Don't over complicate it.
Just because you are adding a few drops of CBD oil does not mean you should throw everything you know about cocktails out the window.
For most cocktails, shake for 10 seconds if your cocktail has citrus, stir for 20 seconds if your cocktail does not have citrus.
There are exceptions, but this is standard practice. Pour it into your favorite glass and you have your delicious CBD cocktail.
8 CBD-Spiked Cocktails To Try
CBD is delicious in just about every cocktail under the sun, so whatever you like, give it a try!
Here, we have a few different cocktail ideas and recipes to get you started, all infused with CBD of course.
They use all different types of alcohol and flavors, so no matter what you fancy, you're sure to see something you like.
CBD Mint Julep
The official drink of the Kentucky Derby! Or, if you've been to Nashville or live in Tennessee, chances are you've enjoyed this Southern drink.
A nice stiff drink filled with refreshing herbs. Perfect for making you feel tough while still laying back in a lawn chair on the porch. The secret to this delicious Derby cocktail? It's all about the mint.
2.5 ounces bourbon
1/2 ounce simple syrup
mint leaves
other garnish if desired
3-5mg CBD oil
Muddle the leaves and simple syrup in a chilled julep cup.
Add the bourbon and top with pebble ice.
Swirl, then add more ice.
Garnish with mint leaves.
Enjoy!
CBD Pimm's Cup
The most refreshing drink known to mankind. Cucumber, ginger, and a splash of CBD oil make this the perfect sipper. The tawny-colored gin-based liquor Pimm's No. 1 Cup is the foundation of the eponymous cocktail.
In the 1840s James Pimm, the exalted landlord of an oyster bar in London's financial district, invented and marketed it as a health tonic.
2 ounces Pimm's No. 1 Cup
3 ounces Sprite, 7Up or ginger beer
1 slice cucumber
3-5mg lemon flavor CBD oil
Garnish: strawberry
2nd Garnish: lemon wheel
3rd Garnish: orange wheel
4th Garnish: mint sprig
Muddle the cucumber with the simple syrup in a cocktail shaker.
Add Pimm's, ice, and lemon juice, shake, and strain into a glass filled with ice.
Top with ginger beer.
Add garnish to look nice.
Enjoy!
CBD Mezcal Margarita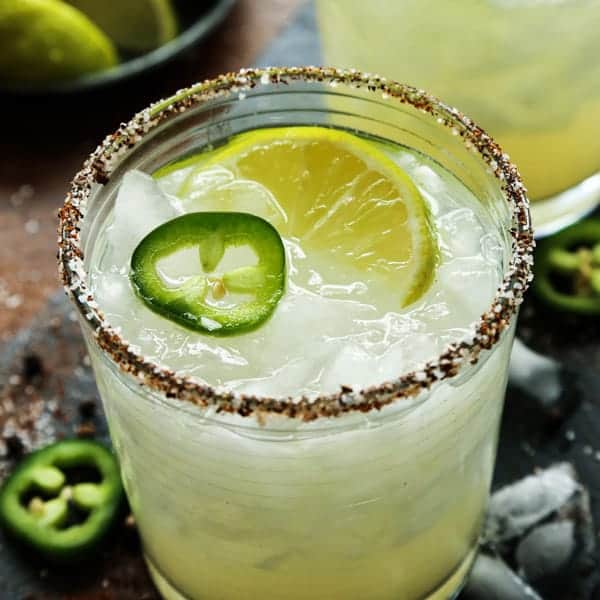 Perfect for Taco Tuesday or any other day of the week, the Margarita is an all-time classic. With the added relaxation from the CBD oil, anywhere can be your beach.
1 ounce Mazcal
1 ounce aquavit
3/4 ounce lime juice
3/4 ounce agave syrup
3-5mg lemon flavor CBD oil
a pinch of sea salt
Garnish – greens
In a shaker filled with ice, combine Mezcal, aquavit, lime juice, agave syrup, salt, and CBD.
Shake, then strain into a glass with a large ice cube.
Garnish with choice of greens or add a slice or two of jalapeno for a little kick!
Enjoy!
CBD Gin And Tonic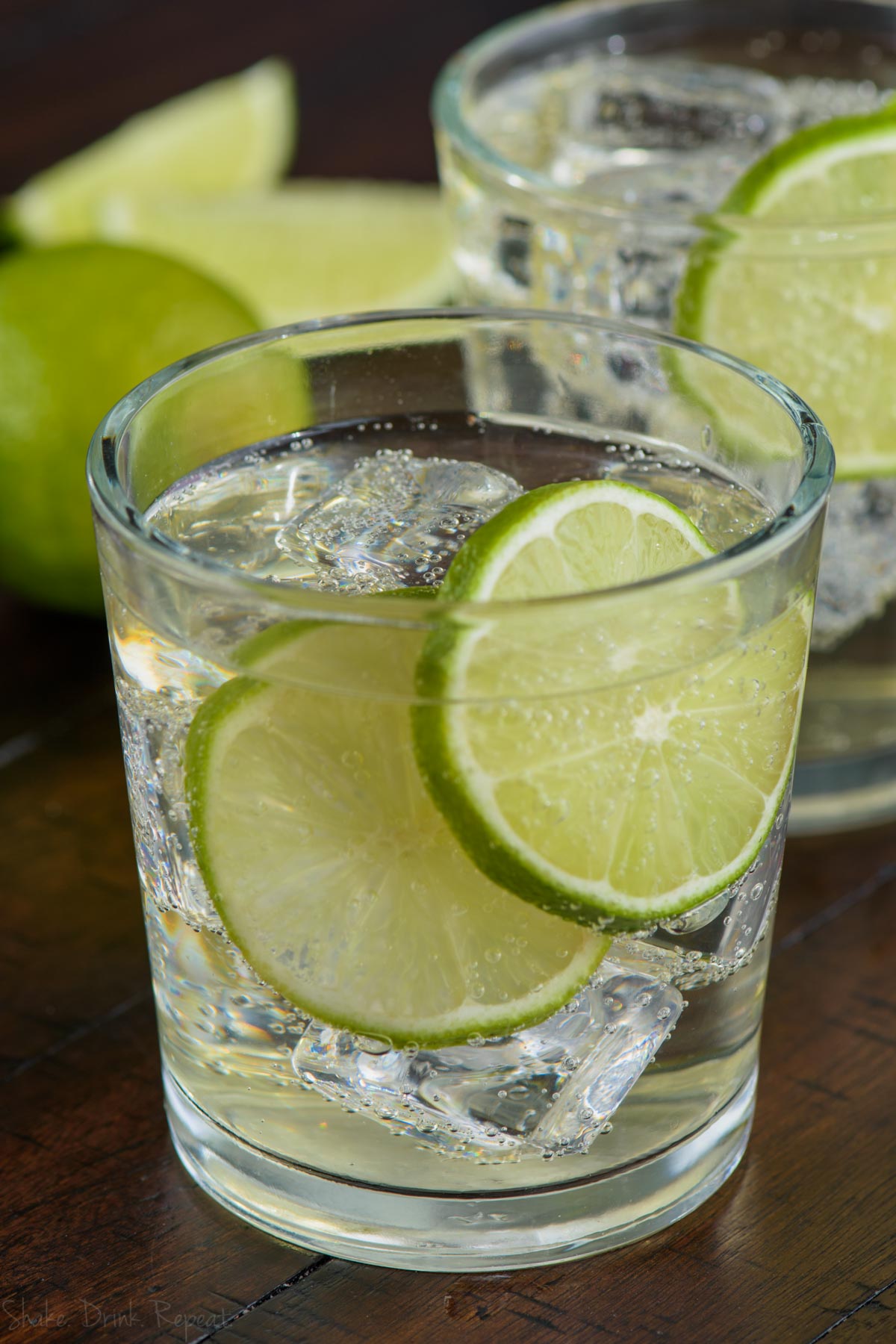 Many people find CBD pairs best with gin, so this classic is going to taste great.
British officers in India in the early 19th century took to adding a mixture of water, sugar, lime and gin to the quinine in order to make the drink more palatable, thus gin and tonic was born.
1.5 ounces gin
3.5 ounces tonic water
1/4 ounce lemon juice
3-5mg lemon flavor CBD oil
An aromatic – lime slice, grapefruit peel, mint, etc.
In a wine glass, combine the gin, lemon juice, and tonic water. Top this with ice.
Arrange the aromatic in the drink so that it looks pleasing to the eye.
Float CBD oil on top (do not stir)
Enjoy!
The Polynesian Watermelon Drink ('Otai) Grownup Style
The tropical, made-for-vacation drink can now be enjoyed in the comfort of your own home. Otai' is a fruit drink which originated in Tonga and is usually made as a summertime refreshment.
Another relaxing pairing that goes perfectly with the addition of CBD.
1.5 ounce Mezcal
Chili powder
1/4 ounce lime juice
3/4 ounce pineapple juice
3/4 ounce watermelon juice
1 ounce coconut cream
1/2 ounce heavy cream
3-5mg CBD oil (lemon or peppermint flavor)
Peychaud bitters
fresh mint leaves
Infuse Mezcal with 1 tablespoon of chili powder and blend. Let it sit for 20 minutes.
Mix all of the ingredients except for Peychaud bitter and mint into a cocktail shaker, or blend with ice.
Strain over a glass filled with crushed ice.
Top with bitters and mint.
Enjoy!
CBD Moscow Mule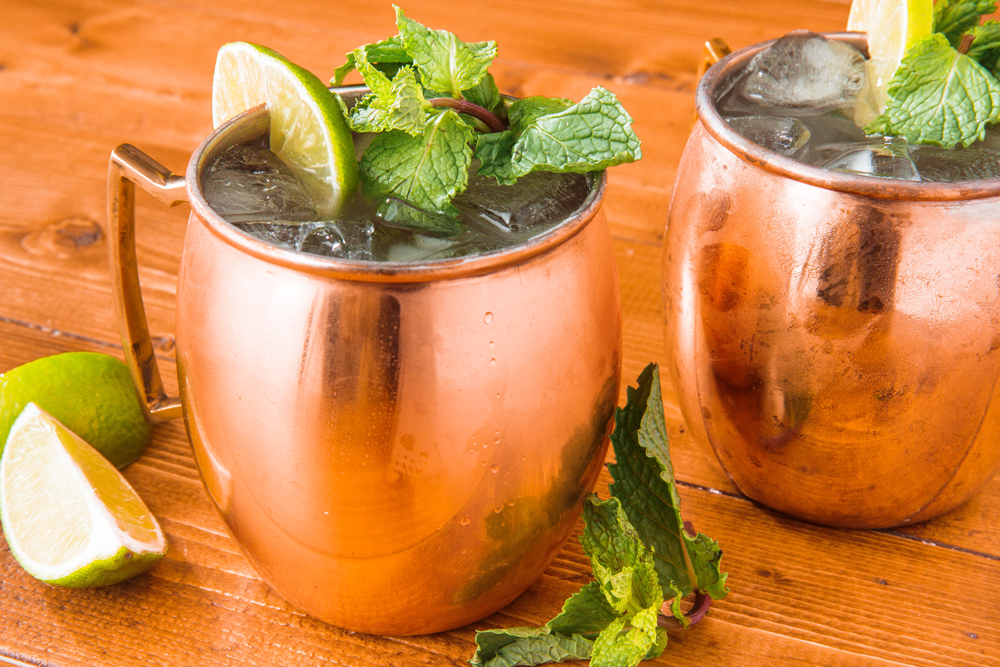 The earthy taste of CBD pairs perfectly with the taste of ginger. Combine that with citrus, and you see why the Moscow Mule makes a great mixing partner for CBD.
2 ounces vodka
1 ounce fresh lime juice
3-5mg peppermint flavored CBD oil
ginger beer to top
mint garnish
lime wedge garnish
Fill copper mug (you know, the Moscow Mule mug) with ice.
Add vodka, lime juice, and CBD and stir.
Top with ginger beer.
Add garnishes to look nice.
Enjoy!
CBD For The Cosmos
Channel your own Carrie of Sex and the City. Cosmopolitans are all about chillin' out, maxin, relaxing all cool and all. Also, they're delicious. So make that relaxation even MORE relaxing by adding CBD oil to the mix.
1/2 ounce fresh lime juice
1 ounce cranberry juice
1/2 ounce Cointreau
1.5 ounce vodka
3-5mg lemon flavor CBD oil
Orange peel for garnish
In a cocktail shaker, mix the lime juice, cranberry juice juice, Cointreau (or triple sec of you don't have Cointreau), and vodka. Shake up the mix.
Open and add CBD oil. Shake again.
Add ice, then shake for 20 seconds.
Once the shaker feels cold, place a strainer over the mouth and pour into a martini glass (you need to look classy!)
Garnish.
Enjoy!
CBDgria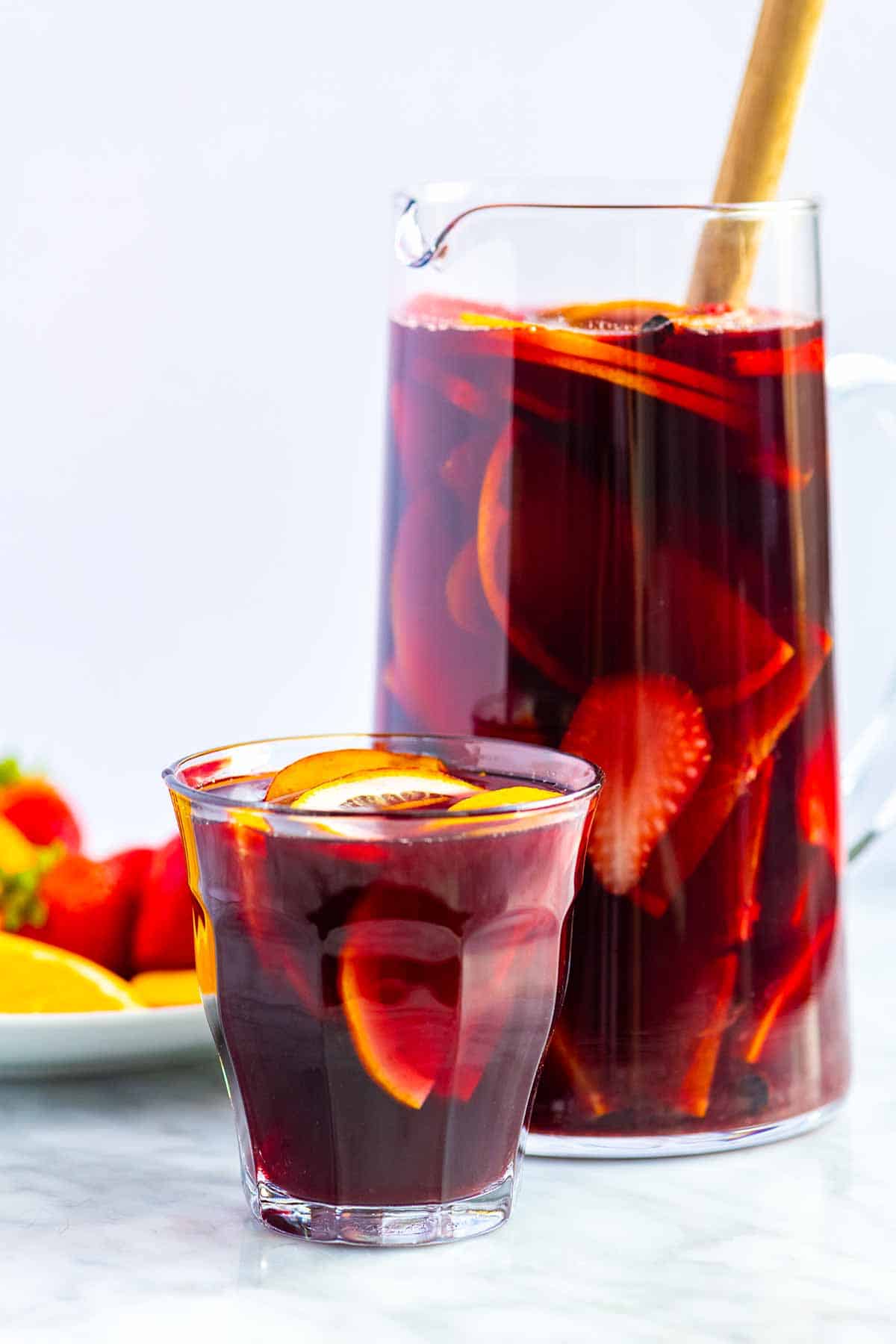 Throwing a sangria party and want to give your drink a CBD kick? Now you've got yourself a CBDgria party. It is cheap, it is easy, and it is a crowd favorite. Plus, it has delicious fruit floating around in it.
Apple
Lime
Lemon
Orange
1/2 cup of orange juice
1 cup of cranberry juice
3 cups red wine
2 cups seltzer
10-15mg lemon flavor CBD oil
Ice
Prep the fruit by slicing it into pieces.
Add fruit, red wine, and seltzer to bowl or pitcher.
Add ice and CBD oil and let chill.
Serve and enjoy!
Will I Hit More PR's If I Drink A CBD Cocktail?
Finally, the question you all came to read: Will I hit more PR's if I drink a CBD cocktail?
Yes… this is a LEGITIMATE question!
All we can say is that when you become a legendary dancer or karaoke superstar, your fear of 'should I go for a PR' will go away.
That's the good part. But that doesn't mean it's a good idea, so stop and ask your coach first. 😉
In all seriousness, alcohol can be dangerous, especially when drunk in large quantities. Remember… "Please drink responsibly".
You Kill the WOD, We'll Recover the BOD!
You might also like