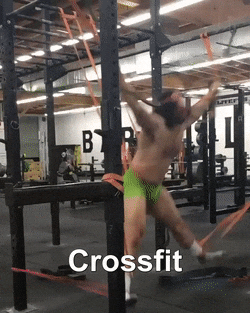 Hello, CrossFitters, let us introduce you to your new best friend, resistance bands!
You stare up at the pullup bar, sweat trickling down your face. A solid beam of galvanized steel ready and waiting to watch as you once again fail to pull yourself up to eye level.
'Intimidation' is the one word that repeatedly crosses your mind. Your muscles burn and your torn hands yearn for a break, but you know if you back down from the pullup bar, you may never redeem yourself.
And so you jump, splayed hands grasping the cool metal. A brief surge of electric energy crackles through you. 'I can do this', you think to yourself.
'I CAN DO THIS', you scream to the others in the gym, back muscles preparing for a war with gravity.
But you can't do it. Sweat courses in rivulets down your face. Your neck flexes and your eyes clench in fury, but all without victory.
You land back on the floor, a sweat-drenched warrior so close to victory, yet unable to quite finish the job. If only you had something to help you, something to take a bit of weight off your shoulders…
'Hey, want to use a resistance band to pump out those last few reps?'
Bif holds out two red rubber bands with his callused hands. "Great effort by the way."
He slings the bands over the enemy bar like a cowboy lassos a wild stallion. Cowed, the steel beam no longer looks so intimidating.
Time to finish that set.
WHAT IS A RESISTANCE BAND?
Resistance bands, also known as therapy bands or workout bands, are stretchable, flexible bands used for a variety of fitness activities.
Whether you are a novice planning your first workout ever, a hardened workout warrior, or someone just getting back into fitness while recovering from an injury, fitness bands are right for you.
Endlessly versatile, workout bands can be used to help work out every muscle group no matter where you are.
Generally, resistance bands come in various colors, each color denoting a different strength of the band. The bigger and stronger the band, the more weight it is replicating.
This means you can constantly change the load on your muscles through various combinations of bands and switching bands for different exercises.
First formed in the early 20th century, resistance bands were first used as solely a recovery tool. People with injured muscles would use the bands to regain their lost strength.
Nowadays, no matter what your need, resistance bands are something to add to your workout equipment.
THE BENEFITS OF RESISTANCE BANDS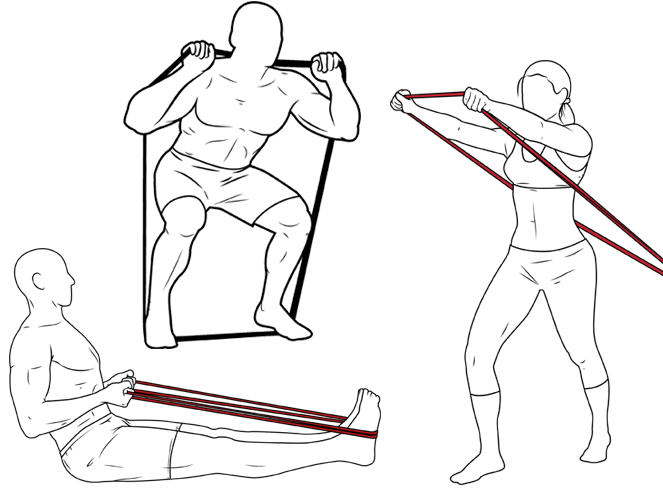 The benefits of resistance bands are nearly endless, but the major ones can be lumped together into 4 broader categories…. Home Wods, Versatility, Constant Stress, & Recovery.
HOME WODs
The sad fact is we may be doing home workouts for the foreseeable future. While this isn't exactly ideal, it does give us the opportunity to be creative with our workouts.
You don't need an entire CrossFit Box's treasure trove of workout equipment in your basement to feel the burn of a WOD, you don't even need weights, really. With resistance bands, you can recreate a variety of exercises, replacing weights with resistance bands and good old-fashioned tension.
Resistance bands are nomadic: you can take them anywhere, they pack light, and you do not need a lot of room to use them to full effect.
For our current situation, they're your new best friend.
If you want to learn more about doing some home WODs, click here: https://blog.wodrecoveryrx.com/can-you-crossfit-with-the-coronavirus/
VERSATILITY
We've already touched on this, but let us reiterate one more time: Resistance Bands are nearly endless in what you can do with them. They are a sea of different variations of exercises and workouts, and you have only just dipped your toe in.
Think of any exercise you have ever done. Odds are, resistance bands could be used to complement that exercise in some way or another.
As well, you don't even need other equipment to feel the benefits of workout bands. With only a few bands, you can vastly improve your home bodyweight workouts – no other weights needed!
If you find yourself stuck needing a home workout right now, here's the link for you: https://blog.wodrecoveryrx.com/can-you-crossfit-with-the-coronavirus/
CONSTANT STRESS
Think about how you lift weights.
Use a bicep curl, for example. There are tougher parts and easier parts of the exercise. When you contract your muscle, there is a lot of tension, when you elongate it, there is not nearly as much.
With resistance bands, there is a constant tension throughout the entire motion of the exercise. This works the muscles in a slightly different way than with classic weights and also helps work out smaller secondary muscles that help with balance.
RECOVERY
We are not going to get too much into the injury recovery, general recovery, and injury prevention side of resistance bands today, but they are a great tool for recovery of all kinds.
The bands started off as recovery tools for people who could not use their muscles for long periods of time due to injury. Their muscles wasted away, leaving them too weak to lift heavy objects or even their own bodies.
Recovery bands were used as a stepping stone from complete nonuse of the muscles back to normal strength, and are still used in that capacity today.
If you want to learn more about injury recovery using resistance bands, here is a great source to get you started: https://www.prohealthcareproducts.com/blog/rehabbing-sports-injuries-with-resistance-bands/
HOW TO USE RESISTANCE BANDS
Resistance bands can be used for a variety of things.
In sports, many athletes use resistance bands to build specific muscles they need for their sport. For example, basketball players may use a resistance band around a pole to strengthen their hips and quicken their explosive lateral movements.
In bodybuilding, resistance bands are used to build aesthetically pleasing muscles. Because resistance bands are so precise and versatile compared to classic weights, they are used to sculpt specific areas.
In CrossFit, resistance bands are used both macroscopically and microscopically. They can be used as the exercise itself, where people move up colors (and therefore strength) of the band while they improve in an exercise.
They can also be used to endlessly tweak our WODs. The last few sets of chin-ups are too difficult and you can't finish your reps?
Throw on some resistance bands to help you finish those up!
EXERCISES WITH BANDS
Now for the good part. Like we said, resistance bands are a great addition to any workout.
They add a different element, change how your body needs to work, and help vary the difficulty of exercises.
There is nearly an endless amount of exercises you can do with resistance bands, but we've narrowed them down to 8 exercises that cover the entire span of the body.
Some of the exercises require only resistance bands, while some are variations on either body weight or weight exercises to make them easier or more difficult.
LEGS
FRONT SQUAT
Stand with your feet shoulder-width apart on the middle of the band. Grab either end of the band in your hands.
Hold your hands on your shoulders. Stick your elbows out in front of you as if you just caught a clean or were holding a barbell for a front squat.
Squat down into a comfortable squatting position. Make sure your knees do not cave in. Keep the small curve in the small of your back.
Push through your heels as you explode back up into a standing position. Squeeze the butt at the top and repeat.
Sets and Reps: For the band front squat, go for 3 sets of between 12-20 reps.
LYING LEG CURL
Anchor one end of a resistance band to a door for support.
Lie facedown on the floor. Loop the resistance band around your ankle with your legs straight out behind you. Move away from the anchor (door) to create tension in the band.
Tighten your core and bend your leg towards your body at the knee. Focus on contracting the hamstring. Be pretty explosive in the contraction.
Slowly elongate the hamstring and let the leg extend back to a starting position. Repeat.
Sets and Reps: Go for 3 sets of between 8-12 reps.
ARMS
STANDING BICEP CURLS
Stand with your feet shoulder-width apart. Stand on top of the band.
Grab one end in each hand and hold it with your palms facing forward and arms straight down by your sides.
Contract your biceps to curl the band upwards until your elbow is past 90 degrees.
Slowly go back to starting position. Repeat.
Sets and Reps: Go for 3 sets of between 8-12 reps.
OVERHEAD TRICEP EXTENSIONS
Sit on the middle of the resistance band on a chair.
Take one end in each hand and stretch your arms above you, bending your elbows so your hands rest behind your head.
Extend your elbows until your arms are straight over your head.
Slowly lower to starting position. Repeat.
Sets and Reps: Go for 3 sets of between 10-15 reps.
CORE
KNEELING CRUNCHES
Attach the middle of the band to a high anchor – such as the top of a door – and kneel facing away from it.
Grab an end in each hand and hold on your shoulders.
Engaging your core, do a crunch towards the floor.
Slowly go back to starting position. Repeat.
Sets and Reps: Go for 3 sets of between 12-20 reps.
BACK
BENT-OVER ROW
Stand with your feet shoulder-width apart. Stand on top of the resistance band to anchor it to the floor.
Grab an end of the band in each hand and hinge at the waist.
With elbows slightly bent, pull the band up from your knees towards your hips. Squeeze your shoulder blades together and stop when your elbows are about 90 degrees.
Slowly lower back to starting position. Repeat.
Sets and Reps: Go for 3 sets of between 8-12 reps.
BAND PULL APARTS
Stand with your feet shoulder-width apart and knees slightly bent.
Grab the band with both arms and straighten your arms in front of you at chest height.
Pull band sideways with both arms simultaneously. Squeeze your shoulder blades together and focus on using your back to pull the band.
Slowly return to starting position.
Sets and Reps: For band pull aparts, go for 3 sets of between 10-12 reps.
CHEST
CHEST PRESS
Stand upright with your feet shoulder-width apart. Keep your chest up.
Place the middle of the band across your back, and grab each end with a hand.
Keeping your chest up. Push your hands forward away from your chest, in a pushup or bench press motion.
Bring arms back in towards the chest. Repeat.
To increase resistance, grab closer to the middle of the band.
Sets and Reps: Go for 3 sets of between 10-15 reps.
SAFETY TIPS
Resistance bands are only a good exercise tool if you're using them properly and not constantly getting injured. Keep these tips in mind for next time you perform the exercise:
Slingshot
As funny as this may sound, getting smacked in the face with a gigantic rubber band over and over again can hurt – both the body and the ego!
So know how to use the resistance bands. Take resistance band pull-ups, for example:
If you put the band over your knee where it barely hangs on for dear life, odds are it will slip off on the 4th rep and come for your face.
If you slide the band further up your bent shin, it'll never come off and hit you, saving your face from some pain.
Learn how to use the bands.
Know the exercise first
Resistance bands add another element to your exercises. They're another thing to think about, which means you'll have slightly less focus to give to the actual movement.
So know your exercise before you use resistance bands to make it more difficult.
Once you have the movement down, then add resistance bands to make it harder and better for your muscles.
Breath
As with everything, remember to breathe! Just because you're using resistance bands doesn't mean you can magically survive or perform well without valuable H20.
Make sure you breathe throughout the set. It may seem like it allows you to go faster, but this is actually counter-productive for a couple of reasons.
Firstly, you need air too, you know, survive for more than a minute. This is essential for athletics, CrossFit, and generally the life of everything on Earth. So breathe during your exercises.
Secondly, breathing is essential for keeping up our pacing. When we stop taking in fresh oxygen, our muscles fill with lactic acid and grow sluggish.
You heard it here first: breathing is important for humans.
WRAP IT UP
Resistance bands are a great piece of exercise equipment to add to your home collections. They promote muscle growth, help us recover, and are great to have on hand when we can't quite finish that last set of pull-ups.
So, learn how to use them and know when to implement them. They can create whole workouts in the comfort of your own home.
And you never know when you could be stuck in a house for extended periods of time except for government-mandated walks *cough cough*.
You Kill The Wod, We'll Recover The Bod!
You might also like